Opening Hours
eConsult is open 24/7
| | | |
| --- | --- | --- |
| Day | Wickham | Droxford |
| Monday | 8am - 6.30pm | 8am - 1pm |
| Tuesday | 8am - 6.30pm | 8am - 1pm |
| Wednesday | 8am - 6.30pm | 8am - 1pm |
| Thursday | 8am - 6.30pm | 8am - 1pm |
| Friday | 8am - 6.30pm | 8am - 1pm |
| Saturday** | Closed | Closed |
| Sunday | Closed | Closed |
The surgery is closed between 12:30 and 13:30 for staff training every second Wednesday of the month. The Dispensary will be closed every Wednesday 12.30pm - 1pm.
Please be aware that our extended hours appointments are preferably for those working full time and unable to access the surgery during normal working hours.
**Saturday morning surgery appointments are for routine appointments only. We are currently NOT open on a Saturday. Surgery times will be updated when this changes**
Improving access to general practice: evening and weekend appointments now available.
Patients who are registered at this practice can now book an appointment to see a GP or nurse on weekday evenings (after 6.30pm) or at the weekends (on Saturday and Sunday).  Wickham Surgery offers appointments until 7pm on Tuesdays and 8.30am - 12pm on Saturdays.  Other appointments will either take place at Badger Farm Surgery or Andover War Memorial Hospital.  Talk to the practice receptionist to find out more or book an appointment.
By March 2019 everyone in England will benefit from access to general practice appointments in the evenings and weekends at a time that is most convenient to them. This is part of a national drive to help improve access to general practice and get the best possible outcomes for patients. Further information is available at www.england.nhs.uk/gpaccess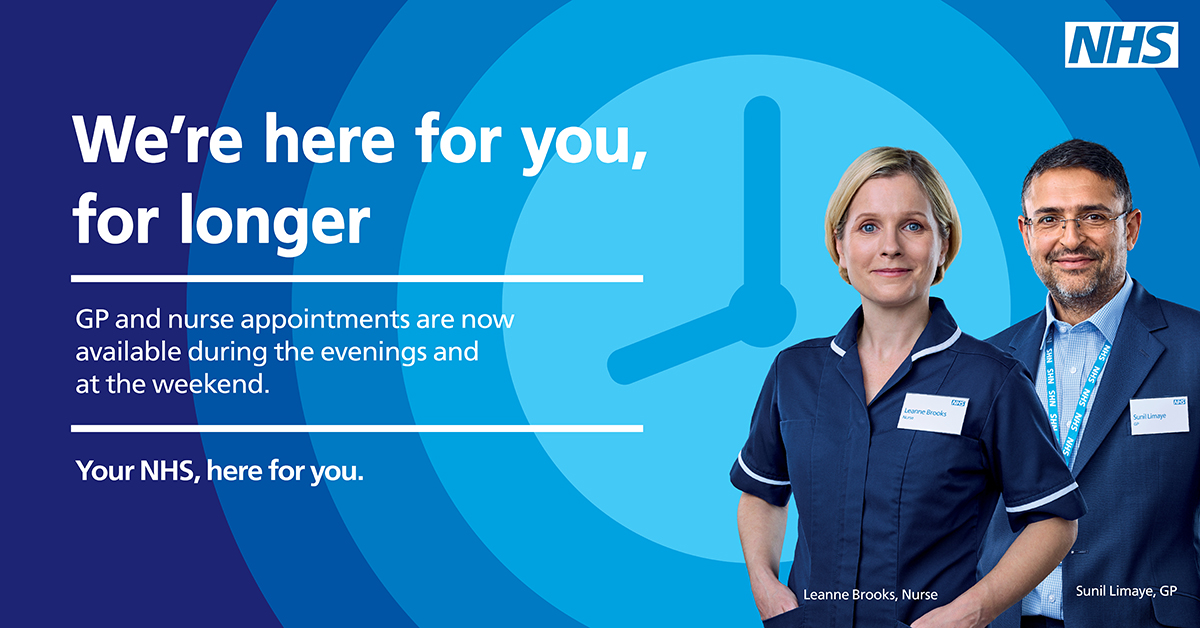 Closing & Training Events